Custom 3.5 mylar bags weed bag-Ewaybag
Mylar bags are the ideal packaging for food like: weed, snack, tea, powder, seeds ,etc. and
it is a pretty good alternative choice to cans or tray.
Made of light weight film with perfect performance of barrier properties, smell and moisture proof.
Our mylar bag is printed with a high level machine and oil to ensure your custom printing will be elegant and attractive, help you catch your potential client's eyes.
Custom mylar bags feature:
Good barrier properties
Resealable ziplock
Heat Sealable
Smell and moisture proof
FDA Food Grade
Made in China
Name: Custom 3.5 mylar bags
Material: MOPP+VMPET+PE
Volume: can hold 3.5g weed
Usage: Weed, snack, tea, powder, seeds ,etc
Printing: Gravure or digtial
Function: Smell and moisture proof
Sealing: Resealable ziplock
Rounded Corners
Bags with custom labels
Stand Up Bag Design
Heat Sealable & Resealable
Ziplock Secured and moisture proof
Food Grade
Custom size, thickness and printing, etc
Free label design service
Food packaging
Accessories packaging
Herb packaging, etc
Rice,Coffee,Coffee bean,Pet food, Nuts,Dry food,Power, Protein Powder,Moringa powder,Snack,Cookie,Biscuit,Candy/Sugar,etc.
Selecting Right Size
| | | | | | | |
| --- | --- | --- | --- | --- | --- | --- |
| Size (W×H×B cm) | Thickness | Cookies | Candy | Tea | Powder | sugar |
| 9×14+3 | (280 micron) | 50g | 50g | 25g | 50g | 100g |
| 10×15+4 | (280 micron) | 60g | 80g | 60g | 100g | 250g |
| 12×20+4 | (280 micron) | 100g | 170g | 90g | 180g | 500g |
| 15×22+4 | (280 micron) | 250g | 270g | 220g | 400g | 650g |
| 17×24+4 | (280 micron) | 300g | 400g | 280g | 500g | 1kg |
| 20×30+5 | (280 micron) | 400g | 800g | 550g | 720g | 2kg |
3.5 Mylar Bags With Labels structure
Customization Process
1.3.5g mylar bag is one of the more common types of weed bags; we offer custom services to enhance our customer's brand
2.The size of 3.5g mylar bags is usually 4x5x2″, but we offer more custom size options, such as 2.76 "x3.94" 2.5″ x 5.5″ larger or smaller sizes can be customized.
3.Provide you with the design drawing of a 3.5g polyester film bag; if you don't have it, we have professional designers who can design it for you
4.Customers need to provide the information they want to print, including company information, social media information, and logos, which we can print on the polyester bags for customers
5.If the customer is not familiar with the bag material or thickness, we have professional customer service to provide reference suggestions, improve customer ideas, to produce the most satisfactory polyester film bags for customers
6.If customers need a childproof zipper, add a hang hole (round or euro), and we are to provide customized
A Regular 3.5g mylar bag is one of our company's better bags, serving thousands of weed customers yearly. As a manufacturer of bags
We offer free proofing and a 10% discount on your first order. Based on the cost advantage, we are 30-60% cheaper than US manufacturers, especially for customers who need large quantities, the discount is higher, but the quality is sometimes better.
Custom3.5g mylar bags can help customers to improve brand awareness. When people buy packaging weed containing your logo, it will gradually form the brand in your customer's mind to create desire.
So as a packaging bag manufacturer, it is always our mission to help our customers get better mylar bags.
The number of layers of the bag is often determined by customers' needs, such as the need to print patterns, the need to prevent water leakage, and many other personalized needs. Generally, many of our customers' bags are divided into three-layer structures, and the materials of these three layers can be customized according to the pack's function.
We manufacture and supply high-quality takeaway packaging for food and beverages. All options can be fully customized and printed.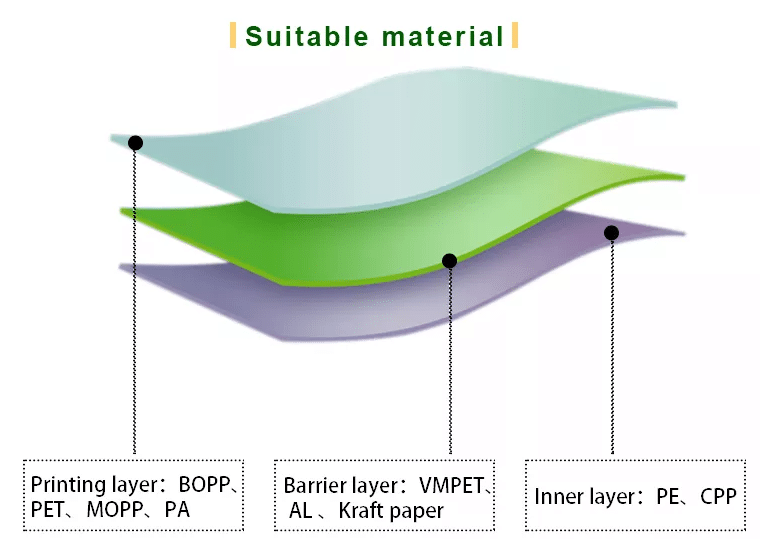 Frequently Asked Questions
Related products
Wholesale Custom Printed Dog Poop Waste Bag Product Name Custom Printed Weed bag Printing Logo Available Products Type…