Custom mylar ziplock bags Custom Printed-Ewaybag
Mylar bags are the ideal packaging for food like: weed, snack, tea, powder, seeds ,etc. and
it is a pretty good alternative choice to cans or tray.
Made of light weight film with perfect performance of barrier properties, smell and moisture proof.
Our mylar bag is printed with a high level machine and oil to ensure your custom printing will be elegant and
attractive, help you catch your potential client's eyes.
Feature:
Good barrier properties
Resealable ziplock
Heat Sealable
Smell and moisture proof
FDA Food Grade
Made in China
Material: MOPP+VMPET+PE
Usage: Weed, snack, tea, powder, seeds ,etc
Printing: Gravure or digtial
Function: Smell and moisture proof
Sealing: Resealable ziplock
We are a manufacturer of bags with a wide selection of bag types: stand up, three side seal, eight-side seal, etc.
custom mylar bags with zipper locks can be resealed and used repeatedly without damaging the bag
Various sizes of mylar bags can be customized, including 2.8 oz/0.5 oz/2.3 oz to 10 oz, and a printed logo is also available.
Food, Rice,Coffee,Coffee bean,Pet food, Nuts,Dry food,Power,
Protein Powder,Moringa powder,Snack,Cookie,Biscuit,Candy/Sugar,etc.
Selecting Right Size
outside size
(cm/inch)
(WxL)
Inside size
(cm/inch)
(WxL)
Coffee
beans
volume
(oz/g)
coffee
powder
volume
(oz/g)
Bathsalt
volume
(oz/g)
9x14cm
(3.5×5.5inch)
8×8.5cm
(3.1×3.3inch)
1.4oz/40g
3.2oz/90g
5.6oz/160g
10x15cm
(3.9×5.9inch)
9×9.5cm
(3.5×3.7inch)
1.9oz/55g
3.9oz/110g
7.8oz/220g
12x17cm
(4.7×6.7inch)
10x10cm
(3.9×3.9inch)
3.0oz/85g
6.0oz/170g
11.6oz/330g
12x20cm
(4.7×7.9inch)
13×13.5cm
(5.1×5.3inch)
4.3oz120g
10.6oz/300g
17.6oz/500g
14x20cm
(5.5×7.9inch)
13×13.5cm
(5.1×5.3inch)
6.5oz/185g
14.1oz/400g
25.4oz/720g
15x22cm
(5.9×8.7inch)
13.5x15cm
(5.3×5.9inch)
7.8oz/220g
18.7oz/530g
33.5oz/950g
16x24cm
(6.3×9.4inch)
14.5x17cm
(5.7×6.7inch)
10.2oz/290g
21.9oz/620g
42.3oz/1200g
18×26cm
(7.1×10.2inch)
16.5x19cm
(6.5×7.4inch)
13.8oz/390g
29.7oz/840g
52.9oz/1500g
Custom mylar bag stickers structure
Zipper bags are bags that can be repeatedly sealed by pressing the zipper, made of polyethylene (LDPE) and high-pressure linear polyethylene (LLDPE) through blown film-forming, heat cutting mechanism bags, which are often formed in one go, after filling the contents or removed, through the opening of the convex ribs and grooves, made of plastic film bags that can be repeatedly sealed and pulled open. Standard materials are PE, EVA, PO, multi-layer composite zipper bags, etc.
Zipper bag has moisture resistance, freshness, quality preservation, good sealing, easy to carry, and long service life because the primary use of co-extruded film with high barrier properties so that it can play an excellent barrier to oxygen, water, etc.
Zipper bags can be used for vacuum packaging, aseptic packaging, and inflatable packaging. Zipper bags can be used for dried fruit, snacks, medical equipment, electronic components, tea, and many other fields, to extend the shelf life of food after opening the bag to make outstanding contributions. High-quality zipper bags can also be used repeatedly as home storage bags, which benefits both consumers and the environment.
Customized Mylar bags with zippers
By adding a zipper lock to your mylar bags, you can make them resealable, and your leftover product stays good quality and fresh inside the bag.
Customization Process
1.Choose your Bag type: Stand up bag,Flat bottom,3 Side seal,Middleseal,etc;
2.Choose your Material structure and thickness: PET,Matte,VMPET,etc;
3.Choose your Size: Width & Length & Gusset.(like 102*127+50mm)
4.Choose your closure
5.Choose your add-ons
6.Choose your Application: Solid or liquid,Food,etc;
5.Choose your printing colors : how many colors in your design. (lf possile , please provide pantone shade or RGB)
The number of layers of the bag is often determined by customers' needs, such as the need to print patterns, the need to prevent water leakage, and many other personalized needs. Generally, many of our customers' bags are divided into three-layer structures, and the materials of these three layers can be customized according to the pack's function.
We manufacture and supply high-quality takeaway packaging for food and beverages. All options can be fully customized and printed.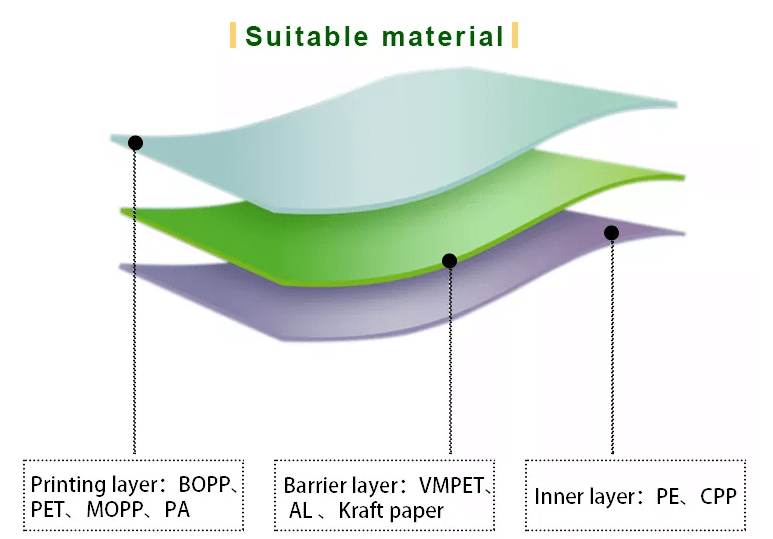 custom shape mylar bags
1.Choose your pouch style: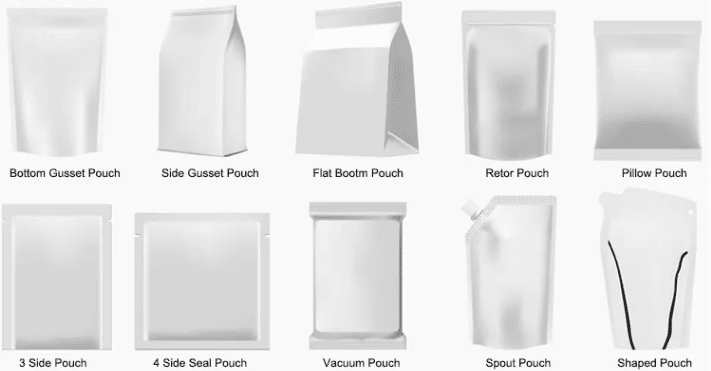 2.Choose the right film structure for your product:Laminated bags offer various barrier qualities based on the filmstructure used. We can help you choose the right film structureto give your product the proper shelf-life.
Reclosable / Resealable Zipper, Innolock zipper or Velcro
Degassing Valve or vent – Clear Window – Tear Notches
Glossy,Matte or Frosted Finish -Ergonomic Handle
Euro or Round Hang Hole – Spouts with caps – Rounded corners
3.Choose your print and color to promote your product:Our in-house art department will help make your ideas into a packageyou will be proud of.Our packaging experts can help you navigatecomplex all the issues like barcodes and nutritional ingredients labels.Perfect for Tea& Coffee, Processed Foods, Beverages, Sauces & Condiments,Confectionary, Frozen Foods,Pet Food,Household & Garden, Health & Beauty,Pharmeceutical & Medical, Industrial Products,Whatever your product needs!
Frequently Asked Questions
Related products
Wholesale Custom Printed Dog Poop Waste Bag Product Name Custom Printed Weed bag Printing Logo Available Products Type…