customized mylar bags Marijuana Packaging-Ewaybag
Custom Full colors customized printing, size and thickness stand up pouch.
High-level barrier packaging bag made of 3 different layers.
The external layer is Matte BOPP, middle layer is VMPET. and the internal is PE.
The Matte BOPP layer makes the bag with matte surface, vmpet keeps the bag
Moisture Proof and Smell Proof, and PE layer make the bag safe for food storage.
first choice product for food storage like: weed, snack, tea, powder,
seeds ,etc.
Resealable ziplock make food storage easy and convenient.
Heat sealable top part keeps the bag airtight.
Tear notch on top part of the bag help you open the bag by hand quickly once sealed.
Custom Mylar bags have excellent properties of heat, light, moisture, oxygen, oil, and odor. Our mylar bags are safe, environmentally friendly, durable, and odorless food-grade materials with excellent impermeability, reflective light, durability, and puncture resistance.
As a packaging bag manufacturer, we offer custom shape mylar bags to enhance our customers' brand image; we can customize the range of shapes, logos, printing, etc.
High class foil barrier
Resealable
Heat Sealable
Smell and moisture proof
Food Grade
Made in China
Pet Food(Snack, Bread, Frozen Food, Dried Food, Fried Food, Retorted Food, Spice, Powder, Sauce,
Mylar bags are used for dry storage of foods, including cereals, beans, oats, dried fruits, candy, coffee beans, tea, etc.
It Can also store coffee, nuts, cookies, chips, chocolate, and cereals.
Especially suitable for weed packaging
Most foods or snacks have a short shelf life, between 6 months and two years. However, the time can be extended to 5 or even ten years without oxygen and light.
Selecting Right Size
| | | |
| --- | --- | --- |
| Bag Capacity | Bag Size. (W X H) | Label Size. (W X H) |
| 1g (1/28oz) | 103mm x 100mm | 95mm x 95mm |
| 3.5g (1/8oz) | 103mm x 127mm | 95mm x 122mm |
| 7g (1/4oz) | 103mm x 165mm | 95mm x 156mm |
| 14g (1/2oz) | 125mm x 204mm | 117mm x 198mm |
| 28g (1oz) | 151mm x 234mm | 142mm x 228mm |
Custom shape mylar bags structure
The number of layers of the bag is often determined by customers' needs, such as the need to print patterns, the need to prevent water leakage, and many other personalized needs. Generally, many of our customers' bags are divided into three-layer structures, and the materials of these three layers can be customized according to the pack's function.
We manufacture and supply high-quality takeaway packaging for food and beverages. All options can be fully customized and printed.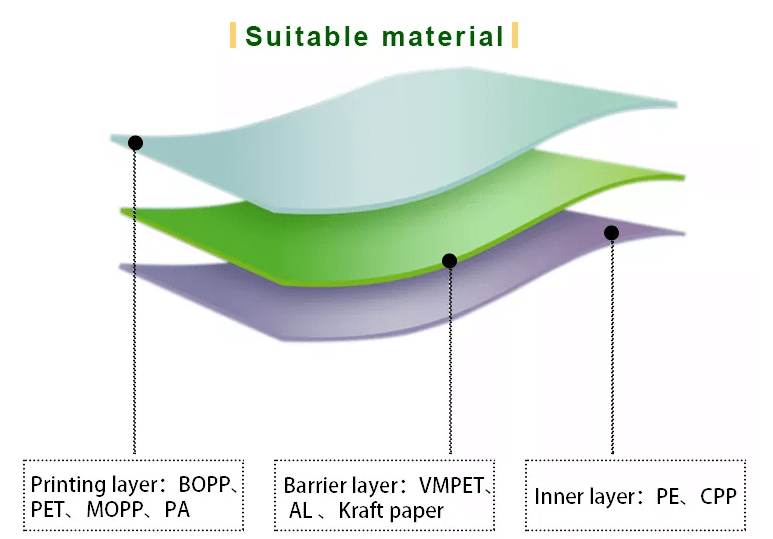 Custom shape mylar bags
1.Choose your pouch style: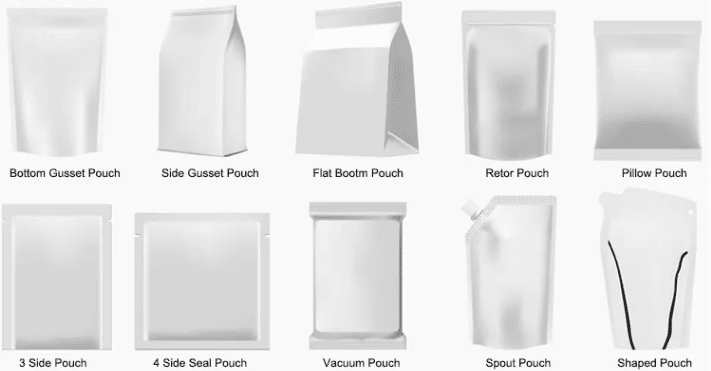 2.Choose the right film structure for your product:Laminated bags offer various barrier qualities based on the filmstructure used. We can help you choose the right film structureto give your product the proper shelf-life.
Reclosable / Resealable Zipper, Innolock zipper or Velcro
Degassing Valve or vent – Clear Window – Tear Notches
Glossy,Matte or Frosted Finish -Ergonomic Handle
Euro or Round Hang Hole – Spouts with caps – Rounded corners
3.Choose your print and color to promote your product:Our in-house art department will help make your ideas into a packageyou will be proud of.Our packaging experts can help you navigatecomplex all the issues like barcodes and nutritional ingredients labels.Perfect for Tea& Coffee, Processed Foods, Beverages, Sauces & Condiments,Confectionary, Frozen Foods,Pet Food,Household & Garden, Health & Beauty,Pharmeceutical & Medical, Industrial Products,Whatever your product needs!
Frequently Asked Questions
Related products
Wholesale Custom Printed Dog Poop Waste Bag Product Name Custom Printed Weed bag Printing Logo Available Products Type…