custom shape mylar bags with logo-Ewaybag
Mylar bags are the ideal packaging for food like: Seed, snack, tea, powder, weed ,etc. and it is a pretty good alternative choice to cans or tray.
Made of light weight film with perfect performance of barrier properties, smell and moisture proof.
Custom Full colors customized printing, size and thickness stand up ziplock bag.
Our mylar bag is printed with a high level machine and oil to ensure your custom printing will be elegant and
attractive, help you catch your potential client's eyes.
Feature:
Good barrier properties
Resealable ziplock
Heat Sealable
Smell and moisture proof
FDA Food Grade
Made in China
Name: custom shape mylar bags any logo
Usage: Seed, snack, tea, powder, weed ,etc
Printing: Gravure or digtial
Function: Smell and moisture proof
Sealing: Resealable ziplock
Rounded Corners
Bags with custom labels
Stand Up Bag Design
Heat Sealable & Resealable
Ziplock Secured and moisture proof
Food Grade
Custom size, thickness and printing, etc
Free label design service
Food packaging
Accessories packaging
Herb packaging, etc
Rice,Coffee,Coffee bean,Pet food, Nuts,Dry food,Power, Protein Powder,Moringa powder,Snack,Cookie,Biscuit,Candy/Sugar,etc.
Applications for custom shape mylar bags
As a professional bag manufacturer, we produce various bag types to meet market demand.
We often see the three-side seal, back seal bags, folded bags, four-side seal bags, zipper bags, three-dimensional bags, shaped bags, bags with hand holes, etc.
Bag image
Bag Type
Industries & Applications
Three-side seal bags
This is the most common food packaging bag type.
Three side seal bags have two side seams and a top seam bag,
the bottom edge of which is formed by the horizontal folding film.
These bags can be folded or not,
and they can stand upright on the shelf when there is a folded edge.
Good air tightness, excellent moisturizing
and sealing performance;
high degree of barrier, deficient oxygen,
and moisture permeability;
strong ability to prevent moisture and mold;
bright and beautiful appearance, and non-toxic and tasteless;
Stand-up pouches
Stand-up pouches are a common bag type in food packaging bags that
It can stand on its own in the container, showing promising results.
It is usually with a zipper and is easy to carry.
Stand-up packaging bags have excellent sealing
and strength of composite materials,
with the advantages of not being easy to break and leak,
with lightweight, low material consumption, and easy to transport.

At the same time,
the packaging material has high performance such as anti-static, anti-UV, blocking oxygen and moisture, and easy to seal.
Back Seal Bags
Back-seal bags are also called center-seal bags,
which are bags with sealed edges on the back of the bag body.
Back-sealed bags are also called pillow bags, bags with back, top,
and bottom seams, making them the shape of a pillow;
many small food bags are commonly used as pillow bags for packaging.
Pillow-shaped bag back seam to form a fin-like seal bag; in this structure,
the inner layer of film is put together to seal,
and seams protrude from the back of the pack are encapsulated.
Another form of closure is overlapping closure,
where the inner layer on one side is bonded to the outer layer on
the other side to form a flat closure.
Back seal bag has the advantages of
being moisture-proof and water-proof,
insect-proof, item-scattering, etc.
Back-sealed bags have a wide range of applications.
Generally, candy, bagged instant noodles,
and bagged dairy products are used in such bags.
Eight-side seal bags
Stand-up pouches developed based on the bottom square can be upright;
the container shows a stunning effect.
This bag type has a three-dimensional sense,
can stand on the shelves, and is convenient for sales shelves consumers eat.
The side bottom has three planes for color printing.
Food packaging bags must be printed information on the front
and aspects of more places to do advertising;
beautification is conducive to promoting
the brand and attracting the consumer's eye.
Eight-side-sealed bags can stand smoothly,
which is conducive to shelf display and attract consumers' eyes;
generally in many fields such as dried fruits, nuts, munchies, and everyday foods.

Eight side seal bags have eight printed pages,
a good place to describe the product or language of product sales.
Product information is displayed more completely.
More able to let customers understand your products at once.

Eight-side seal zipper bag with reusable zipper, easy to use.
Spout bag
A spout bag is composed of a suction nozzle and a stand-up pouch;
a stand-up pouch is formed of composite materials,
suction nozzle is a bottle mouth made of plastic.
This bag type of food packaging bag
facilitates the transportation and storage of food.
It is the first choice for packaging liquids, powders,
and other products, such as juice,
drinks, milk, soy milk, soy sauce, etc.
Selecting Right Size
| | | | | | | |
| --- | --- | --- | --- | --- | --- | --- |
| Size (W×H×B cm) | Thickness | Cookies | Candy | Tea | Powder | sugar |
| 9×14+3 | (280 micron) | 50g | 50g | 25g | 50g | 100g |
| 10×15+4 | (280 micron) | 60g | 80g | 60g | 100g | 250g |
| 12×20+4 | (280 micron) | 100g | 170g | 90g | 180g | 500g |
| 15×22+4 | (280 micron) | 250g | 270g | 220g | 400g | 650g |
| 17×24+4 | (280 micron) | 300g | 400g | 280g | 500g | 1kg |
| 20×30+5 | (280 micron) | 400g | 800g | 550g | 720g | 2kg |
Custom shape mylar bags step and structure
Customization Process
1.Choose your Bag type: Stand up bag,Flat bottom,3 Side seal,Middleseal,etc;
2.Choose your Material structure and thickness: PET,Matte,VMPET,etc;
3.Choose your Size: Width & Length & Gusset.(like 102*127+50mm)
4.Choose your closure
5.Choose your add-ons
6.Choose your Application: Solid or liquid,Food,etc;
5.Choose your printing colors : how many colors in your design. (lf possile , please provide pantone shade or RGB)
The number of layers of the bag is often determined by customers' needs, such as the need to print patterns, the need to prevent water leakage, and many other personalized needs. Generally, many of our customers' bags are divided into three-layer structures, and the materials of these three layers can be customized according to the pack's function.
We manufacture and supply high-quality takeaway packaging for food and beverages. All options can be fully customized and printed.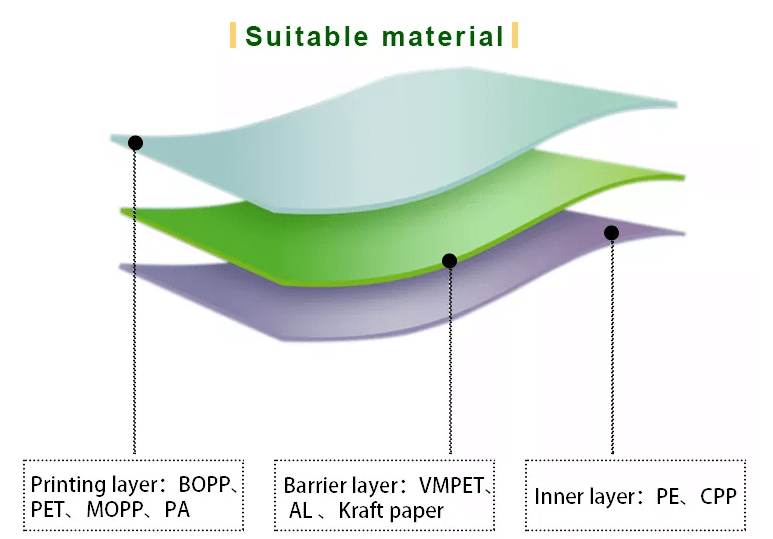 Frequently Asked Questions
Related products
custom direct print mylar bags Wholesale bag-Ewaybag Ewaybag is a professional mylar bag manufacturer, offering high-quality mylar bags…